Whitney Gala 2010
What makes me incredibly happy and filled with lust for life is when I see people who is having a great through whatever could have limited them.
Chuck Close is one of them, of all the guests at the annual Whitney Gala dinner last night I think he was the one who had the most fun!
Guests like Jeff Koons, Jane Seymour, Tony Bennett and Glenda Bailey (who sat at my table) were there. At the dinner we got gift certificates at Saks Fifth Avenue, which I to my horror think I lost....
(how mad, I am at myself). Feeling quite young at the upstairs dinner, one felt much older as soon as we ventured downstairs to party, where there were a much younger crowd dancing to whatever the DJ's from the Roots played.
There was also Chuck Close dancing and laughing in his wheelchair. Chuck Close had a spinal artery collapse in 1988 that left him severely paralyzed, but that never stopped him from continuing his creativity. I am therefore tributing todays post to him and for the inspiration he should be to all of us.
Chuck Close is defying his disabilities by having found other ways of using his creativity like painting with a brush taped to his wrist.
A young Chuck Close in front of a portrait of Philip Glass
(from a photo of the composer from 1969)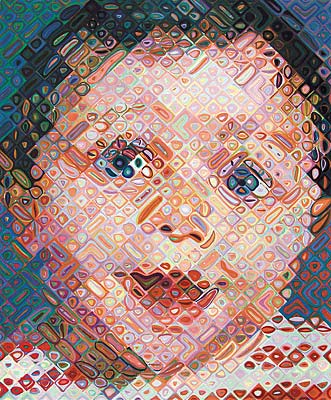 I am ending this post with "Emma" and the pure innocence and happiness that this painting is showing.
Can I tell you how in awe I am about this warm and kind looking genius of a man?
With Love
Kristin